David's Auto Repair
Cacho Automotive Repair
We moved to a new address
3817 Sepulveda Blvd
Culver City, California 90230
Hablamos Espanol
Servicing West Los Angeles Since 1997
David's Auto Repair
(310) 479-4909 or (310) 479-4972

on Yelp

Auto Repair In
West Los Angeles
Westwood
Century City
Beverly Hills
Cheviot Hills
Mar Vista
Culver City
Santa Monica
Brentwood
Marina del Rey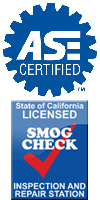 We Service

Auto Repair Services

Specials

Acura
Alfa Romeo
Audi
BMW
Chevrolet
Chrysler
Dodge
Fiat
Ford
GMC
Honda
Hyundai
Infiniti
Jeep
Lexus
Lincoln
Mazda
Mcedes-Benz
Mercury
Mitsubishi
Nissan
Pontiac
Porsche
Saab
Subaru
Suzuki
Toyota
Volkswagen
Volvo
Factory Scheduled Maintenance
Brakes
Tires (repair, replace, balance)
Tune ups
Oil change
Bumper-to-Bumper Inspection
Timing Belts
Fluid Flushes (transmission,
coolant, brake, power steering)
Shocks / Struts
30k, 60k, 90k Services
Heating and A/C
Suspension
Battery
Radiator
Computer Diagnostic
Transmission Replacement
Engine Replacement
Cooling System
Computer Alignment
Welding

Oil Change
$70.00+ tax
Oil Filter and Up to 4 qts. of Synthetic Oil
For most cars, extra fee for SUVs & Trucks

Student Discount
$10.00 OFF
When You Spend $200 or More.
Current Student ID Required.

Free Towing
with Major Work
Valid for Only Seven Miles.
David's Auto Repair
3817 Sepulveda Blvd, Culver City, CA 90230
(310) 479-4909 - (310) 479-4972